With juxtaposing elements of grunge and elegance, Australian born artist Belinda Fox immerses you into her first solo U.S. exhibition
Focusing on strong compositions, Fox's watercolor paintings seamlessly guide your eyes along a winding path, whether it be of fluidly flora or diptychs of diametric opposition. Speaking of her process, Fox expresses it as an effort "to make sense of our increasingly strange tightrope of existence, destruction, progress, and regression."
Each work of art in the collection creates a unifying atmosphere for the viewer to experience while wandering through a world of vibrant, contrasting colors. The recurring subject is an abstracted web that ties all the elements together, demanding to be delicately traced into discovery. Fox said she wants viewers to feel a connection to her work as she seeks a "quiet beauty that stills our wild world for a moment so we contemplate our actions and constantly question, 'can we do better?'"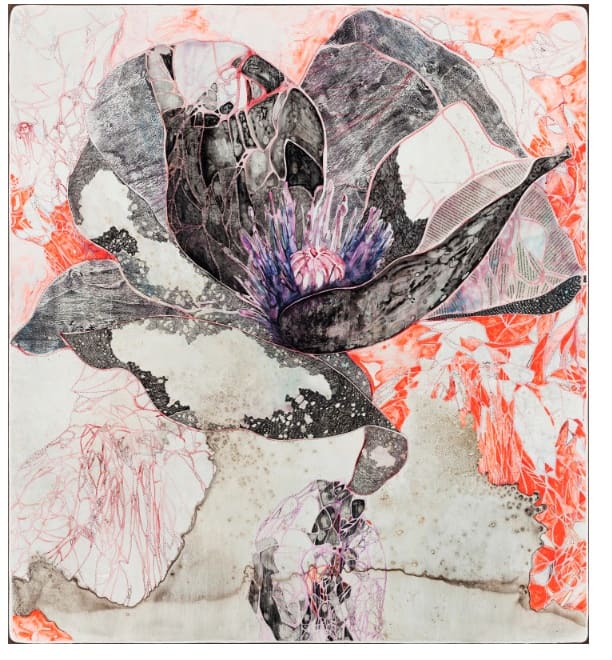 Although this is her first solo exhibition in the states, Fox is no newcomer by any means. Most notably, her work has been featured at the National Gallery of Victoria, National Gallery of Australia, and Queen Victoria Museum, as well as displays in both group and solo exhibitions from the Netherlands to Hong Kong.

"Introduce Yourself" will be on display at Maybaum Gallery from October 17th to December 12th. Displaying the work of artists with a focus on process and revealing their hand, this show will have you completely captivated and immersed into Fox's development.
// 49 Geary St. Suite 416, Union Square, maybaumgallery.com. Feature art courtesy of the Maybaum Gallery.
Link to full article: https://www.bobcutmag.com/stories/belinda-fox
October 7, 2018